Website Design & Hosting - Suffolk
Suffolk is a great place to visit for a break. There is always places to visit and events to attend. Enjoy the lovely sandy beaches, and attend the many festivals and fates Suffolk hosts. When you visit Suffolk you can see the vast countryside which it offers, and the beauty within. There are many towns and villages which offers places to stay, and eat. The pictures on the internet of Suffolk does not excel its beauty, this is something you can only experience if you visit the area. Suffolk is home to many old historical events and places, which have been made into tourist attractions. One of the famous ones would be Sutton Hoo, an ancient burial ground where Saxon treasure was found. If you just fancy a break away visit Suffolk and its countryside.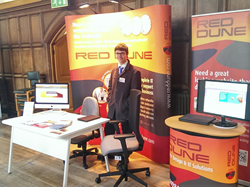 Red Dune had a fantastic day at the Suffolk Coast Business Exhibition. We had lots of interest from Framlingham businesses. Our economical pricing structure surprising more than one business we spoke to. Four leads to follow up!

Red Dune Internet have designed several websites in Suffolk.